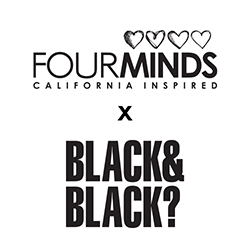 THE STORY
The cure for anything is Sea Water. So let the sea, set you free…
Sea wouldn't really belong to me..Sea doesn't belong to anything. Sea is off in an own world…
She feels Lost In The California Beaches…
She feels Lost In The California Streets…
With a sensational tide, influenced on the one hand by the fierce waves, the smooth sand, the wind of California which knows very well how to excite you, and on the other hand by the endless roads which allow you to relish an owe of intimacy, somewhere between all these ,the inspiration for the collection "fourminds, California travelling, baby !!!That's the solution…" was born. Between the desire to have fun and the world mood for play, the obsession of a genuine California girl, who seeks for absolute freedom, was realized.
The cotton appears in more luxurious textures and is transformed into T–shirts, dresses, skirts, shorts, crop tops, trousers, overalls. Everyday convenient clothes, which move within the monochrome of the basics or shift to flashy shinning colours. The innovative prints with minimal mood are a real presence, while the sexy cuts at the most imaginative spots and rips with character, satisfy absolutely a subversive girl.

 FREEDOM 
 LIVE FAST 
 CALIFORNIA GIRL 
 BOHEMIAN 
 FEELINGS 
 SEA VITAMIN 
 WILD WAVES 
 SANDY TASTE 
 FRESH & COOL 
 FUN 
 STREET STYLE 
 PLAY 
Hey fans, welcome in Fourminds story!!!